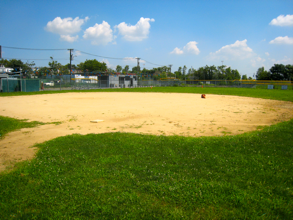 So I read Cistulli's write-up on home runs he gave up and I'm like what about me? You got your pitchers and you got your hitters is what I say. I mean the hitter is like half the equator so I'm here to tell you my side. I mean I didn't face Cistulli but I faced pitchers just like him and man let me tell you they didn't like me one bit.
They were all like scoot back! Scooooot baaaaack! Ha ha oh man it was awesome. This one kid Rusty he piped a fastball and man that thing was still rolling when I touched the plate. Yeah back then we didn't have fences. And the ground was pretty hard because I guess they forgot to water the grass but man I hit that thing far.
That kid Rusty was all – well I can't make the face but he was all uggghhh. And he was scared too because the next time I came up he was playing first base. This other time I hit a ball down the line and when I slid into second the ball rolled away from this kid Michael. I kept running and when I got to third the ball bounced off this kid Bobby. So then I just ran home and my friends were like yeahhhh home run! It was awesome. After the game my grandma was like there's my home run hitter! And my grandpa squeezed my arm muscles and he was like this is a big strong boy!
Later after my voice changed I hit my first home run over the fence and I mean ALL THE WAY OVER. Then in high school one day I killed a fastball off this guy. He threw hard but not hard enough ha ha! When I touched home plate the catcher was like yeah but it's only 240 feet MY MOTHER COULD HIT IT OUT. So yeah I punched him.
After my suspension I hit a bunch of homers in batting practice but I didn't get a scholarship because it's all politics. And I never played in the majors because I hurt my left knee in batting practice. Sometimes I get sad when I think about that I could have played in the majors if I didn't get hurt. Sometimes I get so sad that I don't even think about how much my right knee still hurts.
But I mean there's still time. People always say the scouts are looking for power hitters. And I am a power hitter! I don't know if any scouts were there but against Roy's Auto & Brake Repair I hit a pitch clear into the parking lot. Car alarms were going off and everything. Oh man it was awesome. They said they never seen a softball hit so far.
John Paschal is a regular contributor to The Hardball Times and The Hardball Times Baseball Annual.